Dentures
Dentures are replacement teeth. We've come a long way from the days of wooden dentures and comically false teeth. Today, dentures are nearly indistinguishable from your original teeth.
Technology has helped us develop dentures that are lightweight and very similar to natural teeth. These dentures are created from metals and synthetic resins, and are more durable than the dentures of years past.
Common Denture Questions
Dentures can be either full or partial replacements. A partial dentures replaces a missing section of teeth, while the full dentures an entire set – such as the upper or lower teeth.
Fitting dentures for you takes multiple appointments in order to guarantee a comfortable and effective fit. Once a mold is made, immediate dentures are customized for your mouth and ready to wear.
Partial dentures clasp to an existing tooth – occasionally this healthy tooth may have a crown added to ensure that the partial dentures stay in place.
Daily brushing and regular cleanings are still necessary for dentures. They must be cleaned and rinsed after meals, and removed at night for best results. Just like a regular tooth, dentures last longer with careful care.
Dentures should not be cleaned with the same toothbrush that you use on your regular teeth. There are special denture-specific cleaning products available that will help you keep your dentures in optimal condition.
Traverse City Denture Appointments
Contact us with the form below today to make an appointment. We will work with you to determine if you need dentures, or help you with powerful denture cleaning to help ensure the health of your surrounding teeth and gums.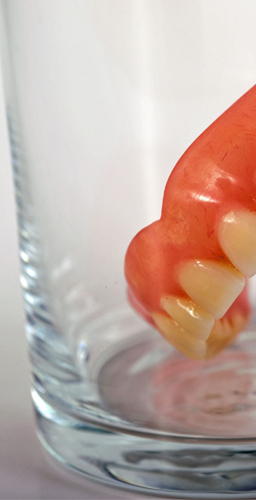 Click the link if you need Emergency Dental Help in Traverse City.