Meet Dr. Tim Wentzloff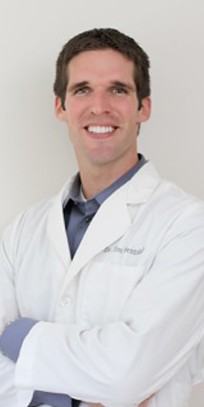 Dr. Tim Wentzloff opened Rose Street Dental in Traverse City the summer of 2012, and has been welcoming patients to the longtime dental office at the corner of Rose and Front Street where Dr. Daniel Cote and Dr. Robert H. Chase formerly practiced.
Dr. Tim grew up in Northern Michigan and is proud to be from Beulah. His studies first took him to Michigan State University where he earned his Bachelor of Science degree in human biology. Then he attended the University of Michigan School of Dentistry earning his Doctorate in Dental Surgery. Dr. Tim received the Academy of Osseointergration Student Achievement Award for implants and the Dr. Frank Smith Memorial Award for his Removable Partial Dentures. After Dental School, he completed a general dentistry residency in Burlington, Vermont. He wanted to move back to where he loved growing up as a kid, northern Michigan. Prior to opening Rose Street Dental, Dr. Tim Wentzloff worked as an associate dentist in Traverse City for two years.
Dr. Tim Wentzloff is an active member of the American Dental Association, Michigan Dental Association and the Resort District Dental Society. He practices modern dentistry with a small-town family focus. He is a second-generation dentist following in the footsteps of his dad, Dr. Dale Wentzloff who practiced in Frankfort, Michigan or almost four decades.
Dr. Tim and his wife Karly live in Acme along with their daughter Hazel, and Bernese Mountain dogs. Karly Wentzloff is a Realtor with Coldwell Banker.